Resolute Capital Partners Announces Investment in PLUM Lending Through Its Technology Fund

SAN FRANCISCO, March 31, 2020 /PRNewswire/ -- Resolute Capital Partners ("RCP"), announced today the company has joined Elliott Management, a hedge fund manager, and Soft Bank, a  high-tech funding firm, by investing alongside them in PLUM® Lending ("PLUM"). Earlier this month, RCP completed a $2 million equity investment in PLUM through its technology fund, Strategic Technology Assets II ("STA II"). STA II invests in early-stage technology companies within the healthcare, financial services, and regulatory sectors. RCP leadership believes these sectors are defensible due to each sector's immense national and global demands.
"More often, companies are demanding an investment partner that can provide operational expertise and support in addition to capital investments," said Thomas Powell, senior managing partner and founder of Resolute Capital Partners. "We are thrilled to make an investment in PLUM, as they seek to revolutionize the commercial lending market. As our world continues to evolve with events such as the COVID-19 pandemic, access to alternative forms of funding becomes increasingly important."
PLUM is a financial technology company that combines data intelligence with financial expertise to modernize commercial real estate ("CRE") lending. It operates at the center of CRE finance, data intelligence, deep expertise, capital sources and industry relationships. PLUM continues to expand its network of financial services, wealth managers, brokers and the CRE industry as a whole to provide property owners with the best options for their investments.
"I'm honored to partner with RCP, having first worked with Tom during the early Silicon Valley days of the 1980's," said Bill Fisher, CEO and founder of PLUM. "RCP's technology fund promotes leading entrepreneurial ventures, and we are excited Tom shares our enthusiasm of unlocking CRE lending in underserved secondary markets."
Through STA II, Resolute Capital Partners' senior executives seek to identify emerging trends and advancements in the fintech, healthtech, and regtech fields that present strong investment opportunities. Its focus on proven or high-potential, early-stage companies in these three key sectors is aimed at facilitating each company's growth and maximizing their market share.
About Resolute Capital Partners
Resolute Capital Partners ("RCP") is a private equity firm with offices in San Francisco, Dallas and Minneapolis, that employs a seasoned executive team which has placed more than $3 billion in institutional-grade and private securities investments throughout their careers. RCP contributes professional expertise and multi-level support towards companies that help them realize their vision in structuring transactions, and offers proven management techniques that yield flexibility and opportunity. Since its founding in 2010, RCP has raised over $230 million in its various energy, technology, and real estate funds. By partnering with issuers beyond Wall Street, RCP is bringing capital to worthy projects.
For more information, please visit www.resolutecapitalpartners.com.
Contact: Jill Swartz
Spotlight Marketing Communication
949.427.1389
For information on how your immediate financing needs may be met, contact a PLUM expert.
PLUM Lending is a full-service commercial real estate lender that provides creative structured finance solutions for a full range of property types. We specialize in the capitalization of middle-market commercial real estate properties nationwide with a focus on secondary markets. We provide borrowers with capital through our PLUM SELECT direct lending program, as well as our capital markets financing program.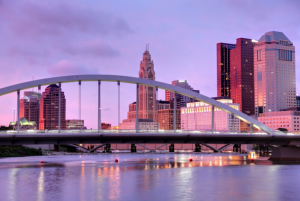 Columbus, OH, is a PLUM SELECT 80 market due to its large population, rapid GDP growth, and proximity to a large portion of the United States population. In addition, several corporations have moved or expanded into the metro in recent years, such as Intel, Amazon, JP Morgan Chase, and Nationwide Insurance. It is also home to…
Read More >>
© 2019 PLUM Lending. All Rights Reserved. | Terms of Service | Privacy | Plum, Inc. dba Plum and/or Plum Lending | CA DRE Corporation License # 01983700 | Responsible Broker: Ginn W. Downing |CA DRE License #: 01925614