Understanding Bridge Loans
Bridge loans are short-term financing arrangements designed to bridge the gap between immediate financing needs, and long term mortgage arrangements. These short-term loans can quickly provide the borrower with the urgent funding necessary to reposition their existing project, or acquire a new project. 
This type of financing can be advantageous to lenders and developers for a variety of reasons. They have flexible loan structures, are non-recourse, offer a quick decision-making process and can be obtained for non-stabilized properties. They also have terms that range from a few months to a couple years.
Quick to Fund
Typically, the timeline for traditional bank loan processing from origination to closing is longer than most borrowers prefer for a time sensitive funding solution or if the project lacks sufficient stable cash flow. The short-term nature of bridge loans generally allows alternative lenders to provide an approval decision and funding with greater speed than a more traditional lender. 
To allow for such a speedy funding process, the expected property value and experience of the sponsor to execute the business plan are the determining factors in the decision making process. For this reason, the loans are commonly non-recourse which is another benefit to the borrower. 
Bridge loans are often the preferred funding option for uses such as:
Highly structured transactions

Discounted note payoffs

Lease-up stabilization 

Redevelopment of existing properties

Repositioning of a tired or underperforming asset

Property acquisitions with a short closing timeline (or challenges on the property or sponsor)

Recapitalizations/Debt Restructuring or Partner Buyouts

Other uses on a case by case basis depending on borrowers specific funding needs where traditional funding sources like banks or insurance companies will have a hard time approving such loan requests

Lending to foreign nationals
Short-Term vs Long-Term
Unlike short-term financing, longer term financing is susceptible to the regulatory hurdles associated with securing long term fixed rate mortgages. This is why bridge loans are often provided by unregulated lenders. In addition to the regulatory scrutiny required by banks or insurance companies, the sponsor's credit history and financial strength also takes a front seat in the credit decision for long-term loans. 
While bridge loans are the preferred option for many specific financing needs, there are several downsides that come with short-term financing that is meant to fund projects. When assets need work, lenders will consider these higher risks and therefore, charge higher interest rates. 
Additionally, to limit their financial exposure bridge lenders generally do not exceed 70%-85% of the property cost basis. However, this leverage is higher than traditional lenders would advance for the same project. This is because bridge lenders rely on the sponsor to fix the issues which made the property ineligible for long-term financing in the first place. This enables the asset to become stabilized and ready for exit through a sale of the asset or by refinancing the property through traditional channels.
Talk to a PLUM specialist about bridge loan options for your specific property
PLUM Lending is a full service commercial real estate lender that provides creative structured finance solutions for all property types. We specialize in the capitalization of middle-market commercial real estate properties nationwide with a focus on secondary markets. We provide borrowers with capital through our various direct lending programs as well as access to construction financing, mezzanine capital, and preferred and join-venture equity investments.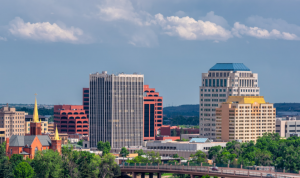 The Colorado Springs market is a focus for PLUM due to its steady population and GDP growth, push towards greener energy, and its robust presence in the cybersecurity sector, both academically and professionally. Additionally, the metro's strong employment base in the aerospace and defense industry, as well as healthcare and cutting-edge medical technology makes Colorado…
Read More >>
© 2019 PLUM Lending. All Rights Reserved. | Terms of Service | Privacy | Plum, Inc. dba Plum and/or Plum Lending | CA DRE Corporation License # 01983700 | Responsible Broker: John R. Garibaldi |CA DRE License #: 01971801